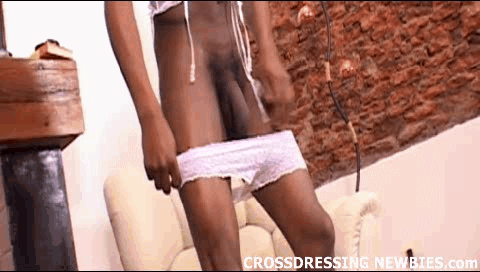 share gif:

Ebony men are usually known for being as masculine as possible, but sometimes, black dudes just love to embrace their sissy side - see this black guy do exactly that!

I know that it's a little taboo, but what the hell? It's not like it's going to hurt anyone. Let's start off with a little makeup to make myself look pretty. Oh my! I didn't think I could look this good as a lady. I need to take it a step further in order to appreciate what being a cross-dresser is really all about.

The white lingerie I found is very pretty. It suits my body well and I'm feeling really horny dressed up as a cute slut. My lady dick is tingling and I want nothing more than to jerk myself off. This sissy session was fantastic - I'm going to close my eyes now and imagine being dominated by a huge stallion that loves to put feminine sluts like me in their place.